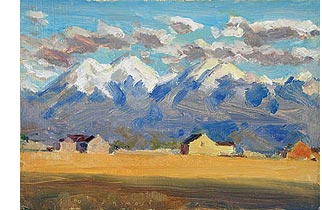 Jim Mott's "Salida Sunrise," an oil on

panel, measures 4 by 6 inches.

Small Art's
Giant Appeal


Lower price points and greater design flexibility
give smaller-sized art huge potential


by Maja Tarateta, Art Business News, April, 2003


(click here to skip to Jim Mott interview)

The works evoke adjectives like "pretty," "intimate" and "safe." Price points tend not to dissuade collectors. And they can be displayed almost anywhere. Indeed, small-scale art, generally no larger than 16 by 20 inches and oftentimes more minute, seems to be the next big thing. "I'd love to be doing big canvases," said Seattle artist K. Joann Russell. "But the market is in small."


Publishers, like Grand Image, are noticing the trend and seizing onto small, too. At the 2002 DECOR expo--Atlanta show, the company did a soft launch of two lines under the Petite Image umbrella: the museum masters line, and the s/n contemporary portfolio line. The company is known for its oversized, high-end contemporary images, but the new portfolio was created to offer smaller, high-end products at accessible prices. "Petite Image was birthed out of recognition of what's happening in a weak and faltering economy and out of the fact that quite fine pieces can be developed in smaller formats," said Buster Baba, vice president of Grand Image. The soft launch went so well, the company decided to pre sent a larger release at Artexpo New York this year.

| | |
| --- | --- |
| | |
| Jim Mott's "San Francisco View" is an oil on panel, measuring 9 by 6 inches. | |
Other publishers, like Chalk & Vermilion, have focused on small-sized lithographs for many years. But Pam Ferraro, marketing coordinator, said she has noticed an increase in the market of late, particularly in the lighthearted work of artist Fanny Brennan, who died in 2001.

Karen Schweitzer, creative director at Winn Devon, also agreed there's a strong market for small art. The company began offering smaller-sized prints three or four years ago in response to framers' requests. "Our direction has been to complement a larger-sized piece," she said. Working with the same artist, the company creates two or four small coordinating prints, which can be displayed on an accent wall as a complement to a big print. The company showcases this complementary ensemble arrangement in its catalogs to spark ideas for retailers.

At Portal Publications, the company offers small matted prints in a variety of themes: the most popular size in the line is 8 by 10 inches, including the mat. Allison Dailey, associate product manager, also points to a new 11- by 11-inch square size as being "trend forward." "The whole line in general is growing" she said. "People are looking for something different."

"Small prints have always been popular," said Anita Kirk, promotions specialist for Art In Motion, an open-edition print publisher that offers many small-scale pieces. But she was quick to point out that "when an image is great, people will want it regardless of the economy."

Publishers tend to agree, though, that the lackluster economy is having an effect on the amount of money people feel comfortable spending on art, perhaps making the purchase of less-expensive small art more attractive. But many in the industry say consumers' increased interest in small art has more to do with making their homes more comfortable, as well as their discomfort in making what they see as "big" art choices.

Artist Russell used to begin a painting by doing small color studies and sketches. When customers started asking for small works, she began selling her sketches. This led her to begin painting small pieces two years ago, and she now finds a strong market for this aspect of her work among middle- and high-middle income customers.

Russell said she draws on her experiences as a former interior designer to understand her market. She described many of her interior-decorating clients as "reluctant to make decisions," thereby turning to a decorator for assistance. "If they were buying something small for the kitchen, they'd be OK," she said. But when it came to choosing a large painting to hang in the living room, "They couldn't make that decision. It's the fear factor of judgment by others," she said. She also noticed another complementary market of people who had developed a taste for high-quality art and were "bold enough to make their own choices, but did not have the money to do it." Hence the attraction by both types to small art.

New York artist Jim Mott also focuses on small-scale art for a number of reasons. He said he can "concentrate on an immediate response to my subject matter" with the smaller pieces. "There's an immediacy in the small paintings that lets them be seen as a way of responding to the world rather than a big personal statement, and sometimes that seems more honest and important," he said.

| | |
| --- | --- |
| | |
| | "Austin Porch" by Jim Mott's, measures 6" x 9" |
Mott recently engaged in an Itinerant Art Project, whereby he traveled across the United States by car, stayed with a series of hosts, painted landscape studies in each location and often traded artwork for hospitality. Many of the paintings completed during this tour were recently exhibited in Rochester, N.Y. The small canvases not only proved more portable but also enabled Mott to complete enough paintings during each two- to four-day stay to offer one to his hosts and keep a few for himself.

"My smaller work typically costs less than the larger work, so more people are able to afford it," said Mott. "That gets original art, my art, into more people's homes and lives. And many collectors don't have a lot of space left in their homes or offices, so a small painting can fit into their collection more easily."

Many agree the small art is a great way to get people to start collecting. "It's a way for people to find out what they like," without a lot of risk, said Russell.

Small art also brings flexibility in display options, depending on how the piece is to be used. The art tends to work well in collections or clusters, said publishers, effectively filling that space above the sofa or tying a whole room together. Small art also fits nicely into awkward places where larger pieces would never work. It is also an effective way for art to leave the wall. For example, Ferraro of Chalk & Vermilion often suggests the small images as a tabletop accessory, like on a bedroom nightstand or a bookshelf.

Small art also works extremely well in hallways, where a viewer may be only a foot or two away from the art and a larger piece could not be properly viewed.

Matting and framing choices for small art generally depend upon where the small piece is to be displayed. For small spaces, the work may be framed to its exact size. Where there is more room, a large mat and frame will allow a completely different effect. Further, when using the small art as part of a collection on a wall, the pieces can be matted separately or together. Portal Publications offers a few matted images in a 10- by 20-inch triptych, and artist Mott said he often mats two or three related landscape studies together to present "more of an experience than a static scene."

Mott also said he generally advocates matting the small works. "The mat helps people to focus on them, and it gives the paintings a presence and really brings out their best," he said. "With a small painting, there's a lot going on in a small space, and the mat, by isolating the painting from distractions, simply allows the richness to be seen and felt."

"It is this flexibility in design that continues to make small prints a wonderful investment," said Kirk of Art In Motion.

No matter how it's displayed, publishers and artists agree there's a big market for small art. Small art "answers a lot of questions for customers," said Baba of Grand Image. "It's a nice way to refresh a house without paying a lot of money."